Helpouts – A new Google star is born !
UPDATE : As stated on Google Helpout :
Helpouts is shutting down
Saying "so long" to our Helpouts community.
We have some sad news to share: Helpouts will be shutting down on April 20, 2015.
Since launching in 2013, Helpouts has been a home for people to connect with experts on topics they want to learn about or seek advice and solutions to everyday problems. The Helpouts community includes some engaged and loyal contributors, but unfortunately, it hasn't grown at the pace we had expected. Sadly, we've made the tough decision to shut down the product.
So, I am sorry to see something as good as this to go. Why, simple. It look likes it really could become a hit. Maybe someone else will create something similar!
---
Yes, there is a new star at the Google horizon ! At least, for me it was new.
As stated on the website of Google Helpouts "Helpouts is an easy and convenient way to get help over live video. No matter who you are, where you are, or what time it is, you can talk to someone who can help you."
Having that said the first thing I was thinking was. Lets sign me up and lets get started. But there is the first problem I have.
You need to have a invitation code. So I did check the internet and the help pages from Google Helpouts.
See in picture top right corner. The ? is to help you. Clicking on that I found out that I should setup a Google wallet merchant account ? But when I do that I need also to setup a business ? Because it is actual asking for "Legal Business Information" ?
But I do NOT have a business anymore. So what to do next ?
I decided to skip this step, and look if I can do it otherwise. I contacted then the helpouts ! It is FREE, so why not.
I talked to someone there and they told me that the invitation are not send out ? So I can only check the outside. And not as a seller. Bummer ! When I asked when they will send out the invitation (I signed up at least here!) She could not give me any answer. So I assume it is still in Beta testing ? Hoping it will be active soon for everyone.
But what has Helpouts now to offer for you as a buyer, seller or for FREE ?:
There are already a lot of poeple that actual provide a service. They are offering help through Helpouts what can can be large, medium, or small companies as well as individuals (And that last part I do not understand why in the wallet you need to setup a business?). Helpout is calling them providers, and they seems to get screened ? How, I do not know. When you start to use Helpout, you can find the help you need by searching in Helpouts, by browsing the categories, or through direct links on the web.
And there is one good thing for a buyer. You get a 100% money-back guarantee if the service is NOT good. So Hangouts is offering the user a full money-back guarantee. If you aren't satisfied with a Helpout, we'll refund your money. Because I work on several websites as a freelancer, I know that this can be a problem for a seller. Why, simple, there will be always people who actual use your service and even if you give the best service out there, they will say that they already know it, where not satisfied or similar excuse just to get there money back. So, sure hope that Google Hangouts will reconsider this part. But I have to test that as soon as I get my invitation code 😉
What do you get in the live interactive video. Helpouts are conducted through live video calls with the provider. During the session, you can point your camera to show what you need help with, or take a photo, or even allow the provider to remotely access your computer to fix a problem. So, if for example, you can point your camera at a broken appliance. Because you can use this service not only on your PC, but also on other devices like your laptop, tablets or phone. But if you don't want the provider to see you, you can always turn off your camera. If both you and the provider agree ahead of time, you also can record the Helpout, and it'll automatically be saved in your Google Drive. A great way to solve problems. Think on the possibilities. Your busy with (trying) to fix your car. But it is not working. You connect whit a pro, and he or she will tell you what to do. Great idea Google.
And all this on a time based appointment system or direct when you need it.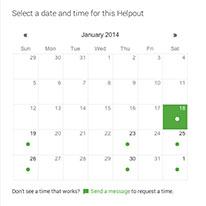 Scheduling flexibility. How is this working. Simple, when there is a green "Available for live help now" button, you are just a few clicks away from getting help instantly. If not, then there will be a button where you can see when providers are available for a Helpouts. You can pick a time slot or send a message to request a new one. So, perfect I think. Hope to test this soon as a seller !
But then, how do I get a Payments. Because all payments seems to be going through Google Wallet so you'll need to create a Google Wallet account before scheduling a paid session.
Will have to check that out, and keep you informed in a update from this article ! But free Helpouts sessions don't require a Wallet account. And when you use my CODE you get $25 to try it out ! Below you see how the pricing is made!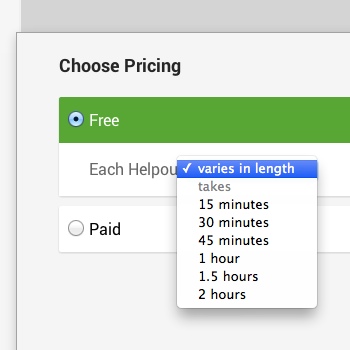 Pricing options. There are two kinds of pricing based on either a per-minute or per-Helpout session. Providers set the prices. Some providers offer both options, and you can choose which one is best for you.
Reviews. At the end of each Helpout, you can write a review of the session to help others decide whether this Helpout is right for them. You can also use these reviews to decide which Helpouts you want to sign up for.
All together it looks like a promising service from Google. And I sure hope that it will soon be fully operational, and that everyone that can offer a service will get approved.
I will signup for services as soon as I can. And will then update this article. Did you already signed up. Do you already use it, then tell me in a comment how you got the invitation code, because I seem not to be able to find that anywhere ! Even if I did see  lot of ADS saying that they could give you a code, but it looks more to me like a scam to let you pay money for it ? Anybody news about Helpouts. Let me know ! Thanks
TheBizWorks.com